Meeting for Coffee – The right way to start the selling process.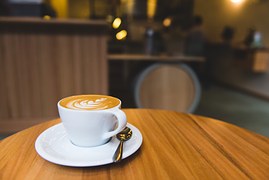 I like to meet people at a coffee shop. Why?
Because I think it's important to just sit and talk and see how we click. It means not being rushed into working with someone before your ready.
Many agents have been taught to only meet at your house so they can see the house and then pressure you to sign papers to hire them.
So far, the Rochester area in 2018 has very few properties for sale. But, that doesn't mean it is the right time to sell for you.
Just like you might interview multiple doctors, or get multiple bids for work you want done, you should consider meeting with multiple people in real estate. Spend a little time and see which one is the best fit for you and your situation.

Why bother? Aren't all people in real estate the same?
Hmmm. Are all the people you have worked with the same? Are all the people who do what you do the same? All equally competent? Equally caring? Innovative? Organized? I'm sure they're not. I'm sure there's a spectrum from less competent etc to more competent etc. That's how people are, right?
There is a reason that many people in real estate seem to be same. It's because many been trained by the big real estate companies in manipulative sales techniques. Agents are actually taught stimulus-response stuff; like when the customer says X, you say Y.
It's disrespectful nonsense that's all about what's best for the agent, not what's best for you.
Before you really start your next real estate journey, you want to be sure you're not working someone who can actually help you, and not get tied to a jerk.
It's all about what's best for you.
If you're considering selling your home, meeting at a coffee shop means NOT having to worry about my first impression of your house.
I never ask prospective buyers or sellers to sign anything when we meet for coffee. Meeting for coffee is just a first step to make sure we will enjoy working together.
Whether considering buying or selling, meeting for coffee is quick and easy and low pressure. It can be for 10 minutes or an hour – however, the conversation flows. You can be undecided and just be gathering info to help yourself make an informed decision later, or you can be ready to go. It's all about what's best for you.
If you're interested in talking to a professional with 30+ years of local experience before letting an agent into your house, you can have an informal meeting at a location you feel comfortable with. Go to the "Coffee with Dave" page to see when Dave is available and set your time, and place, to meet!